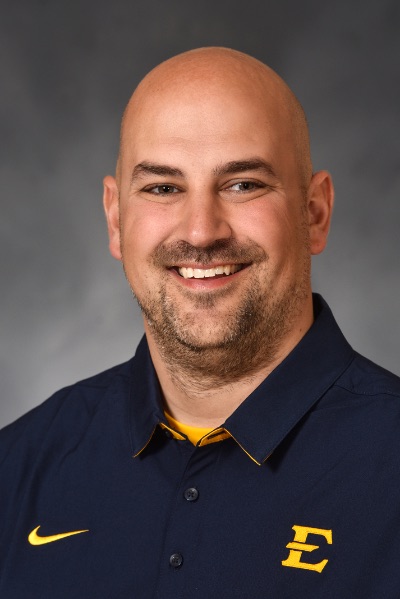 ETSU Athletics Director Scott Carter announced Thursday that Kentucky assistant David Casper has been named head coach of the Buccaneers' men's soccer program.
"David Casper brings great integrity, competitive spirit, and a focus on developing the complete young man to this new role as head coach of ETSU men's soccer," Carter said. "His success in Division I college soccer has prepared him well to lead our program to championships in the Southern Conference. Dave's personality and demeanor are an outstanding fit for our ETSU family. I'm so excited to introduce him to our student-athletes, our coaches, our staff, and our fans."
"I want to begin by saying how extremely excited I am to be named the next head men's soccer coach at ETSU," Casper said. "It is a dream come true for me to lead a program with as strong a history as ETSU. I want to thank President Dr. Brian Noland, Athletic Director Scott Carter, and Senior Associate Athletic Director Mac Hart for entrusting me with this great privilege. I want to also thank Head Coach Johan Cedergren, Athletic Director Mitch Barnhart, and Executive Associate Athletic Director Kevin Saal for an amazing six years at Kentucky. Without their guidance and leadership I wouldn't be here today. I will miss my time in Lexington and the people there, but I am very excited to start a new chapter in my life and to lead this Bucs program for years to come."
In his 10th season overall as a college assistant, Casper was a key factor in elevating the University of Kentucky into one of the top defensive units in the nation, with the stats from the past four seasons to back it up. Kentucky has finished inside the top-20 in the nation in goals against average in four of Casper's five years on UK head coach Cedergren's staff.
In 2017, Casper coached Callum Irving to arguably the best four-year career in school history. With Casper as his goalkeeper coach Irving set the program's all-time records in shutouts (27) and goals-against average (minimum 2,500 minutes – 0.86). He was an NCAA All-American and Scholar All-American in 2014 and 2015 as a senior. He was also a two-time Conference USA Player of the Year, Defensive MVP and Golden Glove award winner. In 2016, having to replace the best goalkeeper in the nation, Stuart Ford was an All-Southeast Region selection.
Casper arrived at St. Francis in 2009, helping the club post a win over the seventh-ranked team in the nation. After a year of working with the team, St. Francis had a breakout season in 2010, winning as school-record 11 games and six in conference play. The team finished with a No. 2 final NSCAA North Atlantic Region ranking and the highest RPI in school annals.
While at St. Francis, Casper worked directly with the goalkeepers, in addition to assisting in all aspects of planning and conducting training sessions, game analysis, scouting, recruiting, team travel, fundraising, equipment management, community relations and academic monitoring.
Before coming to St. Francis, Casper coached as the primary assistant and goalkeepers coach at William Paterson University (Wayne, N.J.). He assisted in planning and conducting training and assisting with the day-to-day management of the program.
Casper spent two seasons (2004-05) working as the assistant coach and head junior varsity coach at Timothy Christian High School in Piscataway, N.J., where he was responsible for on-field coaching, planning and conducting training sessions. In 2003, he was the head coach at Somerset Christian Academy in Zarephath, N.J.
He has additional experience as a trainer for the N.Y. Red Bulls Regional Development School (2006-08), where he worked with under-14 field players and goalkeepers. In 2008, he was the trainer for Competitive Goalkeeping in Bridgewater, N.J., training a variety of different ages and levels of keepers.
Casper has a variety of experience in summer camps, coaching at St. Francis, Notre Dame, Navy, Michigan State, Rhode Island and Victory Sports Camps.
Casper had a standout player career as a goalkeeper at Wheaton College (Ill.) and Messiah College (Pa.). While at Wheaton, he had a 0.63 goals-against average in 2001, with five shutouts. After transferring to Messiah College, he served as the starter on the 2002 Division III National Champions, totaling a 0.40 goals-against average and a school-record 16.5 shutouts. In 2006-07, he served as the starting keeper for William Paterson, posting eight shutouts. Following his collegiate career, Casper had a trial with Independiente de Medellin, in the Colombia First Division.
Casper earned his bachelor's degree in physical education from William Paterson University in Wayne, N.J., and received his master's degree in education from St. Francis University.